November 22, 2017
From the Albany Times Union
U.S. Rep. John Faso voted no on the House Republican tax reform bill last week, but that isn't stopping the Democratic Congressional Campaign Committee from targeting him with a series of new ads.
The social media ads, part of a nationwide campaign in a number of Republican districts, call out "John Faso's Republican Congress" for approving the controversial GOP tax bill. They will feature local news coverage about the bill.
The ads will appear on Facebook, Twitter and Instagram.
Also targeted in New York are Reps. Dan Donovan of Staten Island (who like Faso voted against the bill), Claudia Tenney, John Katko and Chris Collins (all of whom voted yes), according to Roll Call.
Why target certain reps (not all of them, mind you) who voted both yes and no on the bill?
"Every single Republican in New York and across the country will be held responsible for this twisted tax plan, which hikes taxes on middle-class families in order to slash taxes for big corporations and the wealthy," DCCC spokesman Evan Lukaske said in a statement.
An example of an ad running in Faso's 19th Congressional District, per DCCC: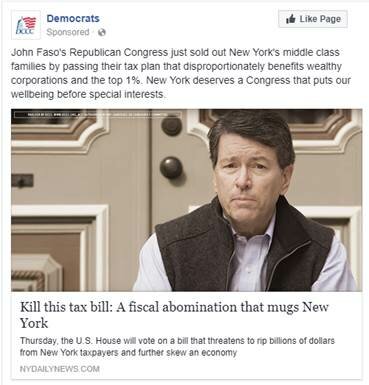 Faso ultimately voted against the legislation — one of 13 Republicans to do so — though he saw benefits, in addition to drawbacks, of the bill. Two days before the vote, he was bullish about doubling standard deductions to $12,000 for single people and $24,000 for married joint filers and other pieces. But he had concerns about eliminating state and local tax deductions. The House bill caps property tax deductions at $10,000 and scraps deductions for income and sales taxes.
From Hearst's Dan Freedman in Wednesday's edition:
Faso followed up on Wednesday afternoon, saying in a statement that it's no surprise DCCC would "use the tax reform bill as a purely political reason for launching misinformed attacks to mislead voters."
"The truth is that John Faso voted against the tax reform bill because he believed it did not do enough to help New York families and taxpayers, and will continue to fight for a bill that will lower their taxes and promotes economic growth," Faso said. "It is pathetic that Democratic leaders like Pelosi are more interested in playing political games by literally attacking members that voted 'Yes' and members that voted 'No' on the tax reform bill.  Even more telling is the silence we hear from the Democratic candidates in this district – if they really want to change the discourse they could start by calling out their party leaders who are launching these lies and false political attacks on their behalf."