October 10, 2018
Oneonta, NY – The National Federation of Independent Business (NFIB) formally endorsed Congressman John Faso for reelection to Congress.  The NFIB said that Mr. Faso represents the best choice to represent small businesses in New York's 19th district. For 75 years, NFIB has been America's leading voice advocating on behalf of small businesses.
"Congressman Faso has been on the front lines in Washington on behalf of New York State's small businesses," said NFIB's New York State Director Greg Biryla. "He truly understands the challenges our members face daily and has led the way to help provide relief to small businesses on issues like New York's burdensome Scaffold Law and New York's Medicaid mandate. On behalf of our members in New York's 19th Congressional District, we are proud to endorse Congressman Faso for re-election to the United States House of Representatives."
"This is tremendous validation of the hard work we've put in to ensure small businesses are in an economic environment to thrive," said Faso. "In the House, I have worked hard to reduce regulatory burdens, and clear hurdles that Upstate small businesses face in their efforts to create more good-paying jobs and serve their communities."
"We believe that good small business policy starts with electing good small business candidates," said NFIB National Political Director Sharon Sussin. "That's why we are proud to endorse Congressman Faso for re-election to the U.S. House. He has been a true champion for small businesses in New York and we are confident that he will continue to stand up for our members."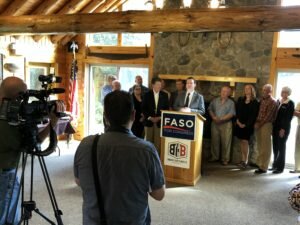 New York State is regularly rated as a bottom-five state in terms of economic competitiveness. John has worked hard in Congress, and before that in the State Assembly, to make New York more economically competitive. New York State has been losing residents to other states at an alarming rate due to high taxes and a burdensome regulatory environment.
Legislative initiatives by Congressman Faso include:
• H.R. 3808, legislation to preempt the New York State Scaffold Law on federally funded projects. The scaffold law, dating from 1885, requires an absolute liability standard for any lawsuits arising out of a contraction site accident. The 49 other states in the US utilize a comparable negligence standard, which greatly lowers insurance costs while still protecting workers. This antiquated law drives up the cost of all construction in New York State and wastes federal tax dollars. The bill has been approved by the House Committee on Judiciary.
• H.R. 1871 that would prevent the New York State government from shifting its Medicaid costs to local property taxpayers.  Faso's bill would reduce typical homeowner property tax costs by $350-$500 per year. New York local taxpayers pay more in local Medicaid costs than local taxpayers in the 49 other states combined. High property taxes are a primary reason why people continue to flee upstate New York.
• Faso has been a vocal proponent of regulatory and tax reforms, such as changes to the treatment of pass-through income for business owners in the tax code.  He has also fought to reduce unnecessary regulations on local community banks, which are a primary source of lending to small businesses in our communities. This legislation was enacted and signed into law during 2018.
Local small business owners from Otsego and Delaware Counties that spoke at the press conference included the following: Robert Harlem, Otsego Ready Mix & Pickett's Building Materials; Tom Armao, Country Club Motors; Christine Amos, Bank of Cooperstown; Craig Van Cott, Unilam.